The ElfBar TE 6000 Puffs  features a higher battery capacity that is rechargeable as well as the well-loved range of fruity flavors you know and love from ELF BAR. Amazingly quiet to use with no sound upon each puff.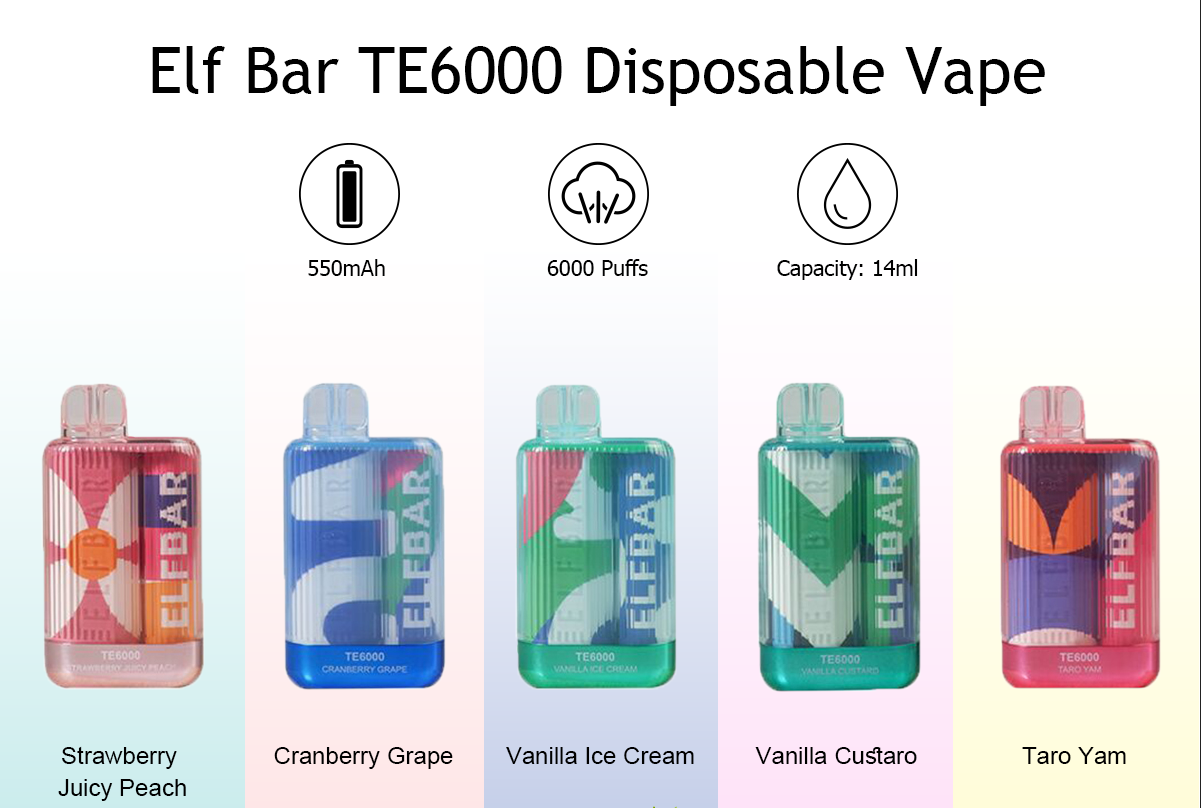 6,000 puffs
5% Nicotine Level
550mah battery (micro usb rechargeable, cable not included)
Inhale activation (no button to press)
15ml liquid capacity (not refillable)
Constant voltage from the first to last puff to ensure a smooth and consistent taste throughout
Slim body design, comfortable mouthpiece, lightweight and pocketable
Wrapped in vacuum sealed packaging for freshness.
ElfBar TE 6000 Puffs Flavor Description
Elf Bull: It is bursting with the sweet and refreshing flavor of your favorited energy drink that has an ice menthol twist.
Juicy Peach : Expect sweet Georgie peaches, full of juicy peach nectar. Puff away on this for an ultimate peach experience that guarantees your satisfaction. With a dash of cooling menthol that elevates the overall peachy flavors.
Blue Razz Lemonade: It  is perfectly balanced and infused with delicious blue raspberry flavors to create a refreshing vape experience.
Apple Peach: The Elf Bar Apple Peach features delicious juicy notes of soft peaches that have been blended to perfection with crisp green apples, which all work together to help create a refreshingly fruity vape experience with a sublime juicy finish
Strawberry Banana: Blends the flavor of smooth, creamy bananas with fresh, ripe strawberries for an endlessly satisfying fruit smoothie vape experience.
Pineapple Mango Orange: An burst of tropical flavors. Ripe mango, sweet pineapple and citrusy orange.
Watermelon:  Experience the perfect balance of sweet and refreshing flavors with the Watermelon TE 6000 vape , featuring a tantalizing combination of watermelon smoothy flavors. This fusion of watermelon and sour watermelon creates a truly satisfying vaping experience that will keep you coming back for more.
Grape:  The Grape Ice TE6000 vape flavor adds a dash of smoothy to a plump purple grape flavor.

Kiwi Passion Fruit Guava: Kiwi adds a unique twist to the usual passion fruit and guava blend, providing a tart flavour that perfectly balances the sweetness. Vaping this flavour will make you feel like you are sipping a fruit cocktail vape flavour.
ElfBar TE 6000 Puffs Review
Elf Bar TE6000 gives an impressive 6000 puffs and 14ml of prefilled e-liquid with 5%(50mg) nicotine strength, this device is perfect for vapers who want to enjoy their favorite flavors without worrying about refilling. Featuring a rechargeable internal battery and an E-Liquid & Battery Indicator, this vape kit is not only convenient but also easy to use. The Mesh Coil technology ensures an exceptional flavor delivery, while the transparent shell and inner coating allow for a clear view of the e-liquid level.
How many puffs does an Elf Bar TE6000 have?
The Elf Bar TE6000 provides 6000 puffs, which means that if you vape for a short period, you may be able to get more puffs out of the Device than those who vape for longer periods.
How much nicotine is in ELFBAR TE6000?
The nicotine content in the ELFBAR TE6000 can be as high as 5%. It is always advisable to be aware of nicotine in your vape juice and choose according to your preferences and tolerance level.
How to use ElfBar TE 6000 Puffs?
Using the ELF BAR TE6000 is simple. The Device comes pre-filled with e-liquid, so you don't need to worry about filling or refilling. All you have to do is remove the protective cap from the Device's mouthpiece.
Once this is done, slowly inhale your lips over the mouthpiece. The Device will automatically activate and produce vapour as soon as you inhale. There are no buttons or settings to adjust, making this a vape-friendly device for every smoker.
If there is not enough vapour production or flavour intensity after a period of use, try taking longer drags instead of short draws.
Ultimately, you throw it away when you are done using it, and there is no difficult operation.
How long do ELFBAR TE6000 last?
ELFBAR TE6000 will last approximately 12-15 days. However, this estimate depends on several factors, such as usage patterns, duration and frequency of vaping.
To extend the life of the ELFBAR TE6000 battery itself, follow the correct charging protocol and avoid exposing it to extreme temperatures or humidity.
How to charge the ELFBAR TE6000?
The ELFBAR TE6000 needs to be charged regularly to ensure optimum performance. To charge your ELFBAR TE6000, connect it to a USB port using the supplied charger.
For safety reasons, always follow the correct charging procedure and ensure you do not overcharge or leave the unit unattended while charging!