The Juul Vape Device is a pod vape designed for transitioning smokers. It was one of the first of its kind. It's slim, lightweight and easy to use. It utilizes disposable pods, so it's like a disposable vape. But it's rechargeable, so the only part you dispose of are the pre-filled pods.
JUUL pods come pre-filled with 3% and 5% nicotine salt, and are available in tobacco and menthol. Each pod holds about 0.7 mL of e-juice and they come in packs of two and packs of four pods. Unfortunately, I only have access to the tobacco pods here due to the flavor ban in New York. It happens to be a decent tobacco flavor but I sure do miss the days of cool mint and mango pods!
The JUUL was ahead of its time when it was released in 2015. Our first review of it was in February of 2016. A lot has changed since then. Additionally, the device has come down a lot in price in recent years. But is it it still one of the best pod vapes available in 2023?
What is Juul Vape Device?
JUUL is a vaporizer, also known as an electronic cigarette or e-cigarette, unlike any other — designed to be convenient, easy-to-use, and familiarly enjoyable for adult smokers. Our proprietary nicotine-containing e-liquid formulation is the first of its kind, making innovative vapor technology a truly satisfying alternative.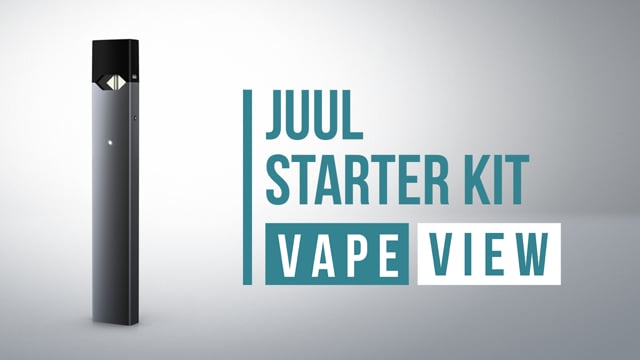 Juul Vape Device Size, weight, and feel
Its battery capacity is only 200 mAh, but it doesn't demand a lot of power. It's temperature controlled, so it tends to only put out just enough power for a fairly moderate puff. The JUUL battery comes with a mini USB charging dock and is available in the original grey or light silver.
The device has gone through a few iterations over the years. But most of the changes have been internal—its form factor hasn't changed since the third edition. The JUUL is still 87.2 mm in length (94.8 mm including the pod) and 15.1 mm wide. With a full pod in, it weighs just over 14 grams. It's heavier than a cigarette but it's still light enough to hold securely in your mouth using your lips.
The JUUL was designed for the average smoker. So, you don't have to be an expert to use it. It comes with a very simple user manual, but here are the main steps to using a JUUL.
Remove the cardboard display pod from the battery.
Make sure the battery is fully charged.
Snap in a fresh pre-filled pod into the device.
Put your lips on the mouthpiece and inhale.
How long does a JUUL  Pods last?
This is not an easy question to answer as it depends on a few things. The easy answer is that it lasts for about 200 puffs. How many puffs a JUUL vape has depends on how long a drag a puff is, and that differs according to every vaper. So everybody's mileage may vary on that point. With a puff lasting a second, then 200 should be expected. Long drags will result in fewer puffs and a faster battery discharge.
What Flavors Are Available For JUUL Device In Dubai
Virginia Tobacco: This one is pretty realistic for a tobacco flavor. You don't taste any smoke, but it does taste the way a fresh pack of smokes smell, before lighting them up. I wouldn't really consider it a sweet tobacco flavor, but it does have a rich, almost nutty taste like pipe tobacco. I feel like if they're gonna get any flavor right it should be tobacco, which they've managed to do. Virginia Tobacco available with 3% and 5% nicotine.
Menthol:  Experience a cool, refreshing sensation with every puff you take with JUULs Menthol pods. These pods deliver an incredibly icy rush of mint that is similar to traditional menthol cigarettes, but so much smoother. Each draw from Menthol Juul pods delivers deft dual-action relief and refreshment. Savour a bright, soothing menthol flavour that is guaranteed to awaken the senses, and have you feeling invigorated and in control.