The Uwell Caliburn X vape kit is sleek and stylish. This is a good option for beginner vapers as it's easy to use and delivers an MTL (Mouth To Lung) style inhale. Powered by an 850mAh built-in battery, you can vape for longer in between charges. Each kit includes a Caliburn X refillable pod featuring a pre-installed mesh coil and a spare for better flavour.
About Uwell Caliburn X Pods Cartridge
The Caliburn X uses the same coils as the Caliburn G and G2. The pod comes with a mesh Caliburn G 0.8Ω coil preinstalled, and a spare Caliburn G2 1.2Ω mesh coil. When it comes to replacement coils, you can order any of Uwell's G Series coils and they will be compatible with the Caliburn X.
The pod connects magnetically and does not move or wiggle at all once inserted. With the pod installed you can use the viewing ports to easily check your ejuice level from either side of the device.
The pod can hold up to 3ml of ejuice and to fill you just remove the cap of the pod. You then insert the tip of your bottle into the large hole with the red rubber stopper and press down. Once you're done filling, the silicone in the port will self-close.
This kit uses a fixed wattage to deliver consistent flavour and vapour production from first to last puff. A small display screen is located on the front of the device to indicate relevant information such as wattage and battery life. There is a small window on this kit too, so you can better see how much e-liquid remains in the pod.
Contains
Uwell Caliburn X Device
UN2 Meshed-H 0.8 Ohm Caliburn G Coil (Pre-Installed)
UN2 Meshed-H 1.2 Ohm Caliburn G2 Coil (Spare)
Type-C Charging Cable
User Manual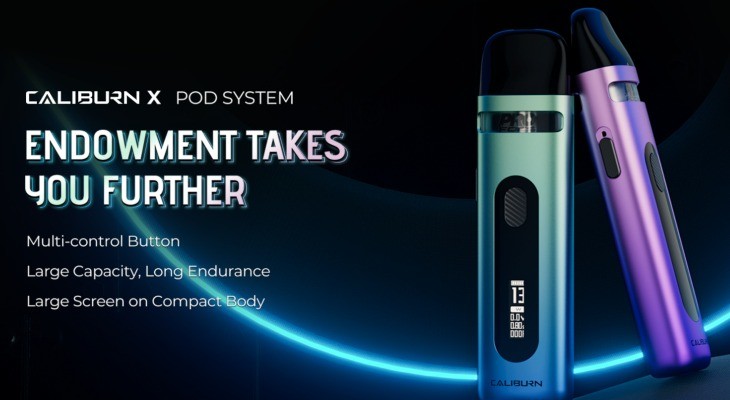 The Uwell Caliburn X pod kit is a sleek and stylish option that remains simple to use. Recommended for beginner and experienced vapers alike, it delivers an MTL (Mouth To Lung) vape and is powered by a built-in 850mAh battery. Plus, thanks to its adjustable 5-20W power range, you can set the kit to deliver a vape that suits you. Each kit comes complete with a 2ml, refillable Caliburn X pod as well as two Caliburn G mesh coils to get you started.
Features:
Beginner-Friendly
Built-In 850mAh Battery
5-20W Power Range
Single Button Operation
Inhale Activation
MTL Vaping
E-Liquid Window
Adjustable Airflow
2ml Refillable Pods